We have described RWD and RWD in our previous blog.
There is strong promise and increasing use of Real World Evidence to accelerate data-driven decisions, improving not only the clinical trial experience, but healthcare in general.
But, can we believe Real World Evidence?
Well that depends as there are more than a few challenges:
Data Quality: Social media data often suffers from being tinged with not being totally truthful. Video and images can be modified. More examples? How to select sources?
Complexity: data without context is just noise, and context is often obfuscated in some Real World Data source
Expertise: Lack of knowledge on how to analyze data and generate insights.
While there is great promise in using RWD and RWE, there are some major challenges that must be overcome: potential bias of data sources, incomplete data sets and lack of harmonization of data between RWE data sources, access to such data, and lack of standards in assessing the value of RWE data. Improving RWE data is key for it to gain international traction.
Evaluation of drug effectiveness, safety, and adherence in real-world patients
Using RWE to evaluate the durability of benefits and side effects over a longer period than studied in RCTs
Exploring sub-population groups in which clinical benefit is (likely to be) greatest
Gaining comparable evidence on the new drug and on the comparator ("usual care")
Evaluating benefits when used outside of the initial indication
Leveraging the advantages of pragmatic clinical trials to inform all aspects of the evaluation of drug effectiveness and safety
Evaluation of comparative effectiveness through indirect comparisons (network metadata analysis) enriched with outcomes from real-world patients
Evaluation of outcomes that are not measured during the standard development process, for example any "other benefits" or wider elements of value such as the impact on productivity
Evaluation of budget impact and cost-effectiveness in a real world setting.
We can expect Real World Data and Real World Evidence to continue in support of deriving informed efficacy of a drug in a clinical trial. This is a learning experience as we try to correlate RWE with data from actual clinical trial participants. The reality is that patient recruitment and retention in any clinical trial is a real and on-going challenge that cannot be minimized. As we develop standards of use of Real World Evidence, the objective is to broaden the clinical trial patient population as well as its diversity so we can more accurately predict which patient cohort will be a responder or non-responders. Accuracy depends on having a statistically relevant population. Real World Evidence helps to achieve this statistical relevance. The acceptance of Real World Evidence is a process that continues as we more fully understand its contributions and the challenges of mediating hype versus real application. The bottom line, therefore, is that Real World Data/Real World Evidence is here to stay because it does contribute meaningful value in augmenting patient recruitment challenges. It does not replace recruited patients, but we must remember that its intrinsic value is that is derived from real patients. The trick is understanding and mediating the context variances between RWE and real-time data from recruited patients in a clinical trial.
The continuing challenge is to correlate Real World Data sources and Real World Data Evidence to the recruited patients of the clinical trial before us. This is non-trivial as the context of these retrospective and prospective data sources, as seen in the graphic below, will probably not match the context of the actual patients in a particular clinical trial. Yet, by standardizing how we analyze and apply Real World Evidence to the same data sets extracted from actual clinical trial patients, such analysis is not impossible.
It is not a leap of faith either so long as we apply the same standards of analysis to both data sets. The context of the data before us needs mediation however as they may not align evenly or at all. Still, broadening the often narrowly recruited patient population for our clinical trial is a worthy objective because if the cohort is too narrow, can we achieve statistical relevance? Analyzed data accuracy, at the very east will suffer to we must explore the comparative outcomes that Real World Evidence provides and apply it to our current patient population.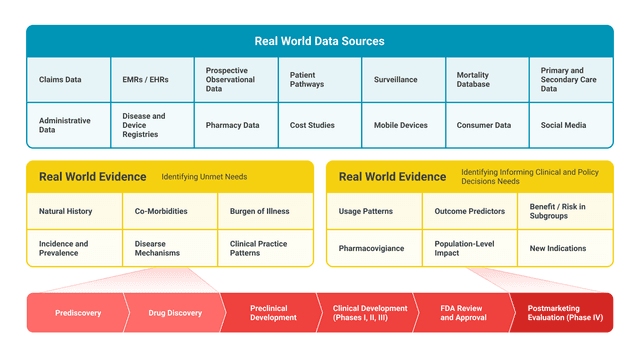 Real World Data Sources & Real World Evidence
Any and all data relating to the health of real-world patients can be considered RWD.
Note that the UK Biobank is an invaluable RWD source because it is so well characterized with less missing data than traditional EHRs. In addition, the UK Biobank contains a wealth of molecular data from Next Gen Sequencing data pipelines and downstream variant analysis which greatly aids the grasp of pertinent patient cohorts and to correlate these anonymized patients with those who are actually in the clinical trial. Note that this is not an easy task.
Quantori
Quantori is an experienced systems integration and data science company that can help fill in each of the gaps and disambiguate the data sources.
For hospitals and healthcare providers, we can offer unrivaled systems integration and data management experience. We know the healthcare industry and its unique challenges (such as strict regulatory requirements and difficult legacy systems). We've built a wide variety of custom software solutions for data systems integration at healthcare firms, so we know what it takes to get your data prepared and integrated into the RWD/RWE pipeline, regardless of the systemic and regulatory challenges you're facing.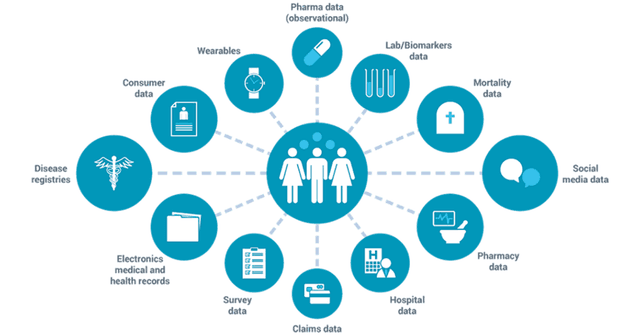 For pharmaceutical firms, we offer our deep systems integration experience in tandem with a data science team that has unparalleled experience in the field of biostatistics and bioinformatics. Our team members have built advanced analytics teams for pharmaceutical companies, delivered the data science strategy for major research organizations, and conducted a wide variety of RWD/RWE analyses using a variety of languages and machine learning techniques.
Whether you need help cleansing the data to meet the FDA's data fitness guidelines or you need a custom algorithm that finds insights in your data where no one else can, we have the skills and experience to make it happen. To learn more about how we can help you, please contact sales@quantori.com or call +1 (781) 771-1978.